Intelligent fire safety hidden danger supervision service platform (electric static) electrical fire monitoring system
The supervisory service system for the hidden danger of electricity safety


Remote monitoring of electrical fires can accurately and real-time receive change information such as residual current, temperature, current, voltage, power, frequency, electrical energy, fault arc in the monitoring line, and when the monitoring line is abnormal, it can quickly issue alarm information and be accurate Display the cause of the fault, and timely check the hidden dangers of electrical fire, so as to eliminate the fire in the bud state.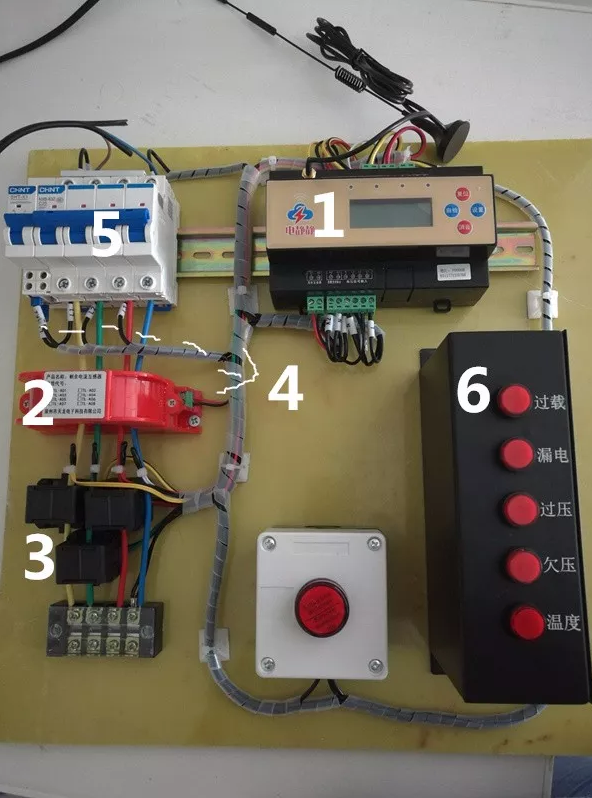 I. Description of the components of the demo box:


1 . Electrical fire detector: can set the residual current, temperature, overcurrent, voltage,
Real-time display of three-phase current, voltage, temperature and leakage current:


2 . Residual current transformer: collect residual current information (leakage current)


3. Overcurrent sensor: collects overcurrent information


4. Temperature sensor, collecting line temperature


5. Incoming circuit breaker (shunt trip): Incoming circuit breaker with shunt trip. Can realize remote power off function;


6. Experiment button: conduct simulation tests on leakage, overvoltage, undervoltage, and temperature;


7. Power cord: Demonstration box working power AC 22OV




Wireless networking, no wiring required!


The electrical fire monitoring equipment of the electrical fire monitoring system is configured separately from the electrical fire monitoring detector (including the residual current transformer of the terminal detection head and the temperature sensor). Electrical fire monitoring detectors are intelligent detector products with high intelligence, complete functions, reliable performance, mini design, beautiful appearance, simple settings, and instrument installation. They are sampled and distributed through monitoring detectors (terminal detector heads). The current, leakage current signal and temperature in the conductive busbar in the electrical cabinet (box) are analyzed and processed by the built-in single-chip microcomputer system, and the two-bus communication protocol is used to transmit the information of the electrical fire monitoring equipment in the fire control room or the duty room to the remote After further analysis and processing by the monitoring center, the monitoring center accepts the alarm and pushes the alarm information to the relevant person in charge of the owner unit, fire department and maintenance unit through the APP for timely response and processing.


The high-security encryption algorithm guarantees the security of the transmitted data, sets the data access authority for the fire department, the networked unit, and the maintenance company, and provides the corresponding information services.